I am supposed to be studying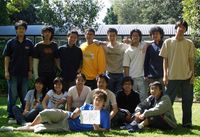 This is my class group, CP2, at UFY. We're missing 3 persons, it's supposed to be 18 of us.
L to R (above row): HK, HK, HK, HK, INA, THAI, INA, INA.
L to R (middle row): HK, HK, INA, HK, HK, CHN
The only guy in the middle is our class-representative, CHN.
Well, not to mention anyone here. If you want to know any of these guys or girls, just email me.